Arguably, one of the biggest challenges in caring for someone that is bedridden, is managing their personal hygiene.
Haircare is an essential part of that. It affects a person's sense of well-being, self-esteem, and identity. No-rinse shampoos, dry shampoo, or wiping the hair with wet cloths can be helpful, but nothing beats a thorough hair washing with water. So, how do you do that if the person can no longer bath or shower? And, if you do wash their hair in bed, how do you do so without making a huge mess of the bed and the room?
It's actually easier than you think. Or can be. All you need, are the right tools. Most specifically, an inflatable hair washbasin. Designed with bed-bound patients in mind, they are easy to use, easy to inflate, and easy to clean.
The process requires a little preparation. But, it's worth it. A real wash with water and regular shampoo cannot be beaten. It will make your older adult feel more comfortable and keep their scalp healthier.
This helpful 3-minute video will walk you through the basic steps of the process. It's always helpful to see, not just read.
We have also summarized the supplies you'll need and the steps to take. And included some additional helpful hints.
What you'll need:
Washcloths and towels
Shampoo and conditioner. Preferably the patient's own.
Hair comb (patient's own)
Mirror
Bucket of warm water
Cup for scooping water
Empty bucket to drain dirty water
What to Do Before You Start
Set up all the tools and equipment you need beforehand, and make sure they are within easy arm's reach
Before the person settles in, make sure they do not need to use the restroom.
Make sure they have privacy and the environment is warm and free of draughts.
Make sure they are comfortable and warm before you begin
Always talk them through everything you are going to do
12 steps to washing hair in bed:
Layout all your supplies so you know you have everything you'll need, close at hand.
If your basin does not have a waterbag attached, fill one bucket with warm water
Make sure to place a towel or waterproof under the person, to protect the bed.
Cover them with a towel and wrap a towel around their shoulders.
If they like, cover their eyes with a warm washcloth to protect them from water and shampoo.
Gently place the person's head into the inflatable basin. And ask them to let you know if they feel uncomfortable in this position at any time.
Make sure the basin is set up to drain into the empty bucket. Then, using a smaller scoop jug, take water from the disposable bowl and wet the patient's hair. Or alternatively, open the tap of the attached waterbag. Start at the front hairline and allow the water to drain down and away from the face, avoiding the eyes and ears.
Apply the shampoo and massage it into the hair. Use a small amount of shampoo to wash their hair – using too much will make it difficult to rinse out.
Using the jug (or tap), rinse the patient's hair with water. Scoop warm water to rinse hair completely.
If hair is very dirty, shampoo and rinse again
Apply conditioner, if required by the patient, and rinse the hair again.
When done, pat the hair with a towel to remove the excess water
Gently remove their head from the basin
Wrap their head in a dry towel to keep them warm and comfortable
Make sure the basin is fully drained
See a step-by-step demonstration of how to wash hair in bed for someone with limited mobility (3 min)

For extra comfort, consider:
Plug ears with cotton balls to keep water from getting in.
Line the neck opening with a small towel to protect from any hard or scratchy plastic seams.
Use a soothing lavender-scented shampoo for a relaxing experience.
After shampooing, offer your patient a mirror as you style their hair in case they would like to help or have input on the styling.
This inflatable hair washbasin comes with a water bag and is ideal for washing the hair of long-term bedridden elderly and incapacitated patients. Easy to inflate, easy to use, easy to clean and disinfect. Made from strong durable plastic and includes a draining hose.
Ideal for washing hair in bed
Strong durable plastic
Easy to inflate, easy to use, easy to clean and disinfect.
Draining hose included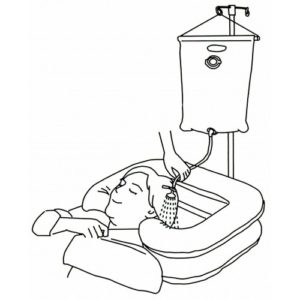 DISCLAIMER: This website does not provide medical advice. This information, including text, graphics, images, and other material contained on this website is for information purposes only. No material on this site is intended to be a substitute for professional medical advice, diagnosis, or treatment. Always seek the advice of your physician or other qualified health care provider with any questions you may have regarding a medical condition or treatment before undertaking a new health regime, and never disregard professional medical advice or delay in seeking it because of something you have read on this website.
Sources:
https://www.nursingtimes.net/roles/hospital-nurses/procedure-for-washing-patients-hair-in-bed-28-05-2019/
Tools for Washing Hair in Bed
https://dailycaring.com/how-to-wash-your-seniors-hair-in-bed-video
https://www.houston-homecare.com/elder-care-in-the-heights-tx-wash-hair-bedridden-seniors/
https://carechannel.elizz.com/resources/how-to-wash-someones-hair-in-bed/
https://www.hospitalappraisal.com/?wash-hair-for-bedridden-patient/