So, you need to buy a wheelchair. But, which one? How do you choose? Where do you begin?
With so many wheelchairs on the market, it can be intimidating to try and choose the right one, especially if you've never purchased a wheelchair before.
It's a big investment, that impacts your lifestyle, mobility, independence, and health.
But, it doesn't have to be as complicated as you think.
Remember: The best wheelchair is the one that suits your needs, fits your budget, and integrates well into your daily life.
So, lets break it down.
Ask yourself the following questions:

1. How much time will you spend in the chair?
Are you only going to be using the wheelchair occasionally? Or will it be your primary, everyday mobility device?
2. How will you use the chair?
Some users need wheelchairs only for home, while others like to explore. Some wheelchairs fold up for ease of travel. Some don't.
These questions are important as they will help clarify your thinking and refine your choice,
And remember, you don't need to choose alone, in isolation, there are experts on hand to help you choose the best wheelchair for you and your needs.
"The best wheelchair is the one that suits your needs, fits your budget, and integrates well into your daily life."
Which type of wheelchair do you need?
Wheelchairs come in model types determined by users' age and situation. Whether they are for kids, adults, seniors, specially-abled ones, or short-time wheelchair ridden.
Gender, bodyweight & height are also very crucial parameters to consider, refining your choices to narrow, standard, heavy-duty, and super heavy duty.
Self-propelled or attendant assisted.
Crucial considerations for choosing the most suitable wheelchair
for you:
1. Wheelchair size
One of the key considerations is wheelchair size. Or more specifically seat size.
The seat of the wheelchair dictates the layout, wheel size, and other secondary features of the device. Seat widths typically range from 16 to 20 inches, with an average width of about 18 inches.
Seat size determines the wheelchair's overall size, which affects how easy it is to navigate doorways, hallways, and other tight spaces.
Size also affects the wheelchair turning radius, which determines how tightly the chair can make a 180-degree turn. An important consideration if you are home or office-bound.
2. Seat Depth
Another consideration is seat depth.
Seat depth is the distance from the back of the seat to the front edge and should be measured when the user is sitting straight up.
Seat depth determines overall comfort and usage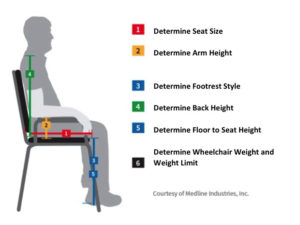 3. Comfort
Wheelchairs come with significant variations in their wheels, shock absorbers, seat cushioning, etc. These variables are largely determined by lifestyle demands, weight, mobility requirements and so – but they all affect comfort. Comfort is one of the most crucial, over-arching considerations when choosing a chair.
4. Weight
i) Your size and weight. As a general rule, the seat must be between 2 and 4 cm wider than the hips of the occupant.
ii) Weight of the chair.
The material that the wheelchair is made of is also a factor to keep in mind.
Wheelchairs are made mainly with four materials:
Which you will require will depend on your answer to the following questions:
Are you going to be self-propelled or assisted?
Staying within a confined space, or out and about?
These factors, directly affect your weight decision.
5. Mobility requirements
Your mobility and your mobility requirements also directly impact your choice of chair.
For example, your degree of autonomy influences which manual wheelchair type would be most suitable. Self-propelled chairs have larger back wheels and are intended for people with a high degree of independence, while non-self-propelled wheelchairs are narrower, have smaller back wheels to be pushed by another person.
6. Terrain requirements
It is not the same thing to buy a wheelchair for outdoor use as for indoor use. The type of surface over which the wheelchair will have to be moved is an important consideration, directly affecting your wheel type and size choice, frame choice, suspension, and seating.
7. Restraints
When dealing with aged individuals or paralyzed patients who do not have complete control over their bodies, it is important to ensure that their wheelchairs are equipped with restraint straps that are strong, durable, and secure.
8. Lifestyle
The most convenient thing is to look for a chair that folds up without tools and that takes up little space. If you are going to use it for practicing sport and recreation, the lighter the better, and if you have to access tight spaces look for one with folding footrests.
Choosing a rigid or foldable frame. The chassis of the chairs with a rigid frame is much lighter since it lacks joints and hinges. Foldable chairs on the other hand are easier to transport, but energy utilization is lower
What are the easiest wheelchairs to push?
Because they are designed to support the user's weight evenly, most wheelchairs are very easy to push. But the two easiest wheelchair types to push are transport chairs and travel wheelchairs. These wheelchair styles are specifically designed to be pushed by a companion, and both rely on a lightweight frame, simple construction, and narrow seat to make them easier to maneuver while pushing.
What is the best wheelchair for seniors?
The best wheelchair for seniors is one that is lightweight, user-friendly, and easy to fold and transport. Wheelchairs that meet these requirements allow senior wheelchair users to maintain their independence and increase their mobility without requiring the assistance of others.
In both the above instances, one of the best examples of a wheelchair for seniors we usually recommend our Deluxe range [https://winfar.co.za/manual-wheelchair-price/] which are all lightweight and foldable. This combo wheelchair provides a smooth ride, is easy to maneuver, highly transportable, and is easy to maintain and keep clean. The swing-away footrests also make it easy to transfer in and out of the chair.
WINFAR offers a variety of wheelchairs enabling our clients who are physically challenged, and/or disabled, to regain their independence.
Considering our customer's needs, age, weight, and price range, our well-trained staff will recommend the appropriate wheelchair for you. Whether it's just an entry-level Basic Wheelchair you need or something more specialized.
All of our wheelchairs fold up to fit the boot of your car which makes traveling and storage easier.