We need to talk about the bathroom! Or more specifically, the toilet!  it's a sensitive topic that many tend to avoid, but it's also an important one, that needs to be discussed. For caregivers, there is always the reluctance to raise personal issues. For seniors, or those struggling with mobility issues, bathroom-related challenges can be embarrassing to deal with, and difficult to talk about. But considering we all utilise the bathroom a minimum of 7 times a day, and that the bathroom is where most accidents occur in the home – bathroom issues directly translate to safety issues. And you want your ageing parent or senior to feel safe!
Many people have difficulties with toileting as they get older. It's a natural part of life. So, we cannot be embarrassed or afraid to talk about it.
Many seniors are reluctant to bring up their concerns with using the bathroom out of a fear that they will no longer be able to live independently or continue aging in place, once people know about their challenges.
If a senior in your life is having trouble in the bathroom, it's important for them to know its incredibly common, and nothing to be ashamed of. There are many steps you can take to help — while respecting your loved one's privacy, and making them feel safe and comfortable.
One of the most commonly needed, and least intrusive adjustments is the use of a raised toilet seat or commode.
RAISED TOILETS SEATS
What is a Raised Toilet Seat?
One way to resolve these issues is by installing a raised toilet seat. A raised toilet seat is, as it sounds, an assistive device for those with limited mobility designed to help them use the toilet while seated. They simply replace the existing toilet seat, so they are extremely easy to install.
In its simplest form, it reduces the distance the person needs to lower themselves to the seat, and stand back-up again.
By raising the height, these devices reduce the amount of strength and dexterity required to get on and off of the toilet. Just a few inches can make the world of difference where sitting down and standing up is concerned. They generally elevate the height of the seat between two and six inches, depending on the model. It's important to select the right height, so they can sit safely with both feet securely on the floor.
Who Needs a Raised Toilet Seat?
In short, anyone that has difficulty lowering themselves down to 48cm (standard height of a toilet) could benefit from using a raised toilet seat (which raises the seat between 11-18,5cm). Whether dealing with mobility impediments, stability issues, stiff joints, weak hips, recovering from (hip, knee or back) surgery, or who simply finds the transition from sitting to standing difficult.
How to choose the right height for you
To determine the right height, consider that your knees and hips should be at the same height when sitting on the toilet. If the seat is too low or high it can be uncomfortable – and make it even more difficult to lower and raise yourself. To assist with making the best purchase possible, do some initial measurements:
Measure from the floor to the back of the thigh (eg 50cm)
Measure the current height of the seat (e.g., 40cm)
The raise needed for your toilet seat equals the measurement in step two subtracted from the measurement in step one! (e.g. 10cm)
Common Attachments for Raised Toilet Seats
A secure handrail will also make it much easier for the user to raise and lower themselves with confidence. Some raised toilet seats have an integrated set of handrails. Other options include installing a separate safety frame or installing grab bars onto the wall by the toilet. Note however, the more weight placed on the handrails, the more dependent they are on the rails, and the stronger the rails must be.
Some of the most common attachments include:
A toilet lid
Splash guards to prevent any unwanted splashing when using the toilet.
Built-in support arms
Removable padded handles for the support arms.
Basic Raised toilet seat options:
Making toilet use easier and safer. An essential bathroom aid, for those with diminished flexibility, strength, or balance concerns. Suited to fit most standard toilet bowls.
Raises the seating height from anywhere between 11cm -18,5cm
5 sets vinyl coated aluminium support brackets
Firmly secures onto the existing toilet bowl
No fittings required
Vinyl attachment points, protect the bowl from damage
Suitable for hip replacement patients
Weight capacity 100 kg
The raised toilet seat with lid is a simple solution for anyone who has trouble getting up from the toilet. The seat raises the existing height of your toilet seat by 10 cm. The raised toilet seat will fit securely and easily to almost any toilet.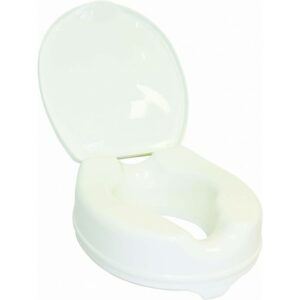 DESCRIPTION
Raises the height of your toilet seat by 10 cm
Make sitting down and standing up from toilet easier
Designed to fit onto existing toilet bowl
Cut outs in front and rear of seat make easier access for personal hygiene
Attaches easily and securely to the toilet bowl
No tools required for installation
10 cm (4″) fixed height
Easy to clean
Weight capacity: 100 kg
COMMODES
Commodes are another option. These are free-standing, non-plumbed toileting devices consisting of a frame with handrails, and a seat. Instead of a plumbed toilet bowl, it has a removable basin, which must be emptied by hand into the toilet.
A commode has the advantage that it can be placed anywhere, including over the existing toilet seat – or alongside the bed. Which can streamline toilet trips significantly and is especially desirable when the patient must travel up or downstairs to use the toilet.
What to Consider when choosing a commode
There is quite a large selection of commodes available on the market. so it good to be clear about your needs before you start doing the research.
Several factors can make a bedside commode all the more functional and comfortable for the user. Here are some to think about:
Removable Seat
A removable seat does more than allow for easy cleaning—it makes the bedside commode multi-purpose. With the seat component removed, you're left with the commode's frame and handrails, which can be used for additional safety and stability as the user returns to the bathroom.
Adjustability
Height adjustment is crucial for comfort, ease of use, and safety. A height-adjustable commode allows the user to get on and off easily and lowers the risk of falls.
Stability
Stability in a bedside commode is important because the user tends to put their full weight on the frame to get on and off of the commode, more often than not, using the arms as safety rails.
Multi-Purpose
Many bedside commodes have 3-in-1 designs, meaning they can be used as a commode, over-the-toilet seat, or safety railing. Some commodes also double as shower seats. Should you want options during your recovery process to transition to the bathroom safely, a 3-in-1 unit can help provide peace of mind.