What is a standard basic wheelchair – and what is it for?
A standard manual wheelchair, also known as a hospital wheelchair, is perfectly designed for its purpose.
It is not built to accommodate long-term use or specialized seating, positioning, or needs. Rather it is considered an entry-level wheelchair. Ideal for basic, short-term use. Think, hospital transfers, a trip to the mall, or a bathroom run.
A standard basic wheelchair is of quite simple design, with minimum adjustability. Frames are made from steel, which means they are hardier to abuse and long-lasting, but they are also slightly heavier and can be difficult to propel for long periods of time.
They are not suitable for long-term use by persons with long-term disabilities. For that purpose, a more lightweight wheelchair should be considered, with adjustable seating options and accessories.
A standard manual wheelchair is defined as a manual wheelchair that:
Weighs more than 16kg.
Has a weight capacity of 112 kg or less.
Has a seat height of 48 cm or greater.
Has a seat depth of between 38 and 48 cm.
Has a seat width of between 38 and 48 cm.
Has fixed, swing away, or detachable footrests
Has a fixed height, swing away, or detachable armrest.
PRODUCT FOCUS: WINFAR STANDARD BASIC WHEELCHAIR
The standard basic wheelchair is our best seller!
If you are looking for a quality, affordable Basic Wheelchair, with steel frame, flip back armrests & detachable footrests, then this is the one for you. It's perfect for general use in malls, visits to the shops or to take your loved one for a walk.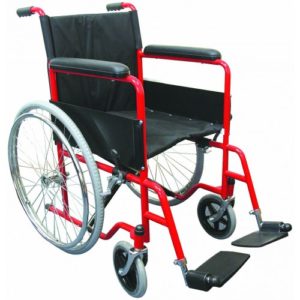 Features:
Footrests: Fixed flip up
Armrests: Fixed full length
Wheels: 8″ Solid Front Castors | Solid 24″ Rear Wheels
Fold-up: The chair folds up for ease of transport and stowaway convenience
Colours: Available in red or black frame
Specifications:
Frame: Steel Red or Black Power Coated Frame
Upholstery: Hard-wearing, black nylon upholstery. Washable.
Seat Width: 18″ (45cm)
Weight Capacity: 100kg
Net Weight: 16.7k.
IMPORTANT NOTE: The Standard Basic Wheelchair is an excellent choice for short excursions and basic day-to-day use. But it is not suitable for someone confined to a chair for extended periods.
Choosing a chair is much like buying a vehicle, there are different considerations. And with each consideration, comes increased costs. Wheelchairs are much the same. They are not one size fits all. And they are not adaptable. Neither are you. Every person and every need is different. Your choice of chair should meet you exactly where you are. But never leave you, where it found you. In other words, it should always improve your quality of life.
While we understand the reality of financial constraints, the economic factor CANNOT be the determining factor. You would never climb a mountain in ballet shoes! Similarly, wheelchairs should suit the user and the environment. The wrong chair can do a world of damage. Payment terms and conditions can be arranged.
If you are unsure of the best choice for you, please reach out and we will willingly discuss the best options, to suit your needs.
Read our article on how to choose the right wheelchair for you, for further guidelines
View our full wheelchair range
Should you require a specific wheelchair that may not appear on our website, please feel free to contact us directly on 021- 797 0034, whats app 076 869 7061
or email us on [email protected].
DISCLAIMER: This summary is intended for general informational purposes only, and should not be interpreted as specific medical advice. You should read product labels and manufactures operating instructions. In addition, if you are taking medications or have any medical conditions, please consult with your doctor or physician first. WINFAR does not make any clinical, operational, or health advises to the improvement of your medical condition. The most suitable wheelchair and mobility device is what we seek for you and ask that you verify with a medical professional
SOURCES: https://www.disabled-world.com/assistivedevices/mobility/wheelchairs/manual/
https://gerimedmobility.co.za/product/?id=5f68142d8525db2102f4dca3